Power Flow
Dynamic class suited to intermediate and experienced practitioners, heated to 30 degrees.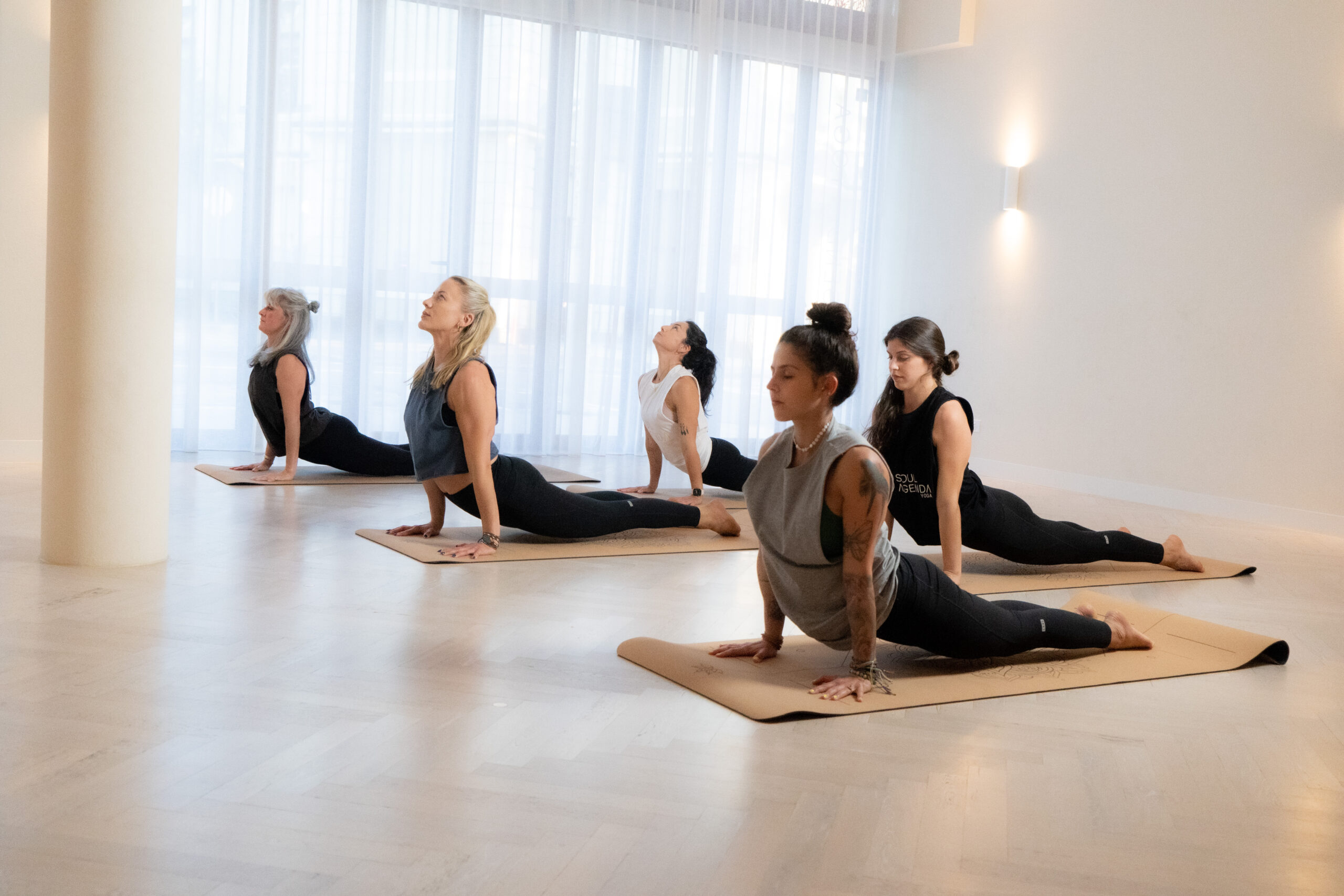 Mellow Flow
Mellow Flow is a gentle open level free flowing class designed to feel good and spacious in the body and mind. This class is suited to all levels that just want to move, breathe, flow and feel good. There is more space in our Mellow Flow to accomodate for those newer to yoga, minor injuries, and pregnancy*.
The class is gently heated to 28 degrees.
*We recommend pregnant women who wish to continue practicing in Mellow classes to attend 1 private sessions prior, or attend our specialised Prenatal classes.
Slow Flow
Nurturing postures are slow paced. The more gentle nature of this class is great for beginners. All levels welcome.
Non – Heated
*We recommend pregnant women who wish to continue practicing in Slow Flow classes to attend 1 private sessions prior, or attend our specialised Prenatal classes.
Yin
Meditative, floor-based practice with long holds to nourish deeper tissue and joints.
Hot HIIT Pilates (Inferno)
Our Hot Pilates class is High Intensity (low impact) Interval Training (HIIT) with Pilates elements, set to fun music that combines cardio and muscle toning in a heated room.
Prenatal
A class especially for mums to-be, considerate and supportive of the unique needs of prepartum women.
Parents & Bubs
Light-hearted practice for new mums or dads and their bubs (non-crawlers), including postnatal yoga asana as well as time to connect with your baby.
QiGong
QiGong is an ancient form of energy cultivation originating in China thousands of years ago, the practice involves intentional breathing synchronised with specific movement in order to enhance the internal energy of the body.
Soul Brothers
Soul Brothers – Mens yoga
An open level practice developed specifically for men and athletically inclined individuals that believe they do not have the flexibility for other yoga classes.
Soul Brothers combines familiar exercises with yoga poses and pranayama (breathing exercises) to strengthen muscles and relax tight areas as well as finding a safe place to relax.
Meditation
In this 30min meditation we will work through breath work and guided meditation to experience a sense of deep rest, calmness and peace.
Sound Relaxation
This new class style is designed to completely rejuvenate the body, mind, and soul through the ancient wisdom of sound therapy.
This practice is designed to cultivate energy and heal the body rather than take away from your energy systems.
Warm 26+2 (Bikram) - 30°C
Bikram Yoga is a style of hatha yoga involving a standardised series of asanas (26+2) performed to an instructional dialogue in a heated environment which is taught in 30 C as a 60min class in our studio.
Privates
✨PRIVATE, SEMI-PRIVATE AND CORPORATE GROUP SESSIONS AT SOUL AGENDA 🙌
Ready to take your practice to new heights? Soul Agenda is here with a universe of private and semi-private yoga experiences that cater to your unique needs and experience!
Here at Soul Agenda we tailor completely unique and in depth experiences suited to any particular skill level or experience you're needing. This can be anything from private one on one yoga instruction (perfect for those beginning, with injuries, or those wishing to elevate their practice) to assisted stretching, sound baths, qigong, guided meditation, ice baths or a combination of all!!! 🧡
Private Yoga (60min): Dive into a personalised yoga journey that's all about you. We tailor each session to your mood, whether you crave the serenity of meditation, the flow of yoga, or the expansion of assisted stretching.
Assisted Stretch (6o-75min): Allow our skilled instructors to guide your body into blissful release and recovery. This unique practice melds yoga, stretching, and meditation to transport you to a realm of relaxation.